packing incups paste pizza dongtai chilli oyster sauce filling machine
packing incups paste pizza dongtai chilli oyster sauce filling machine
DONG TAI

CHINA

15 WORKING DAYS

1000 SETS/YEAR
1. The bottle sauce filling machine uses compressed air as power and an automatic filling system is composed of precision pneumatic components.

2. The bottle unscrambler of the sauce nottle filling machine uses mechanical transmission technology, which can be adapted to a variety of bottle types through simple adjustments
packing incups paste pizza dongtai chilli oyster sauce filling machine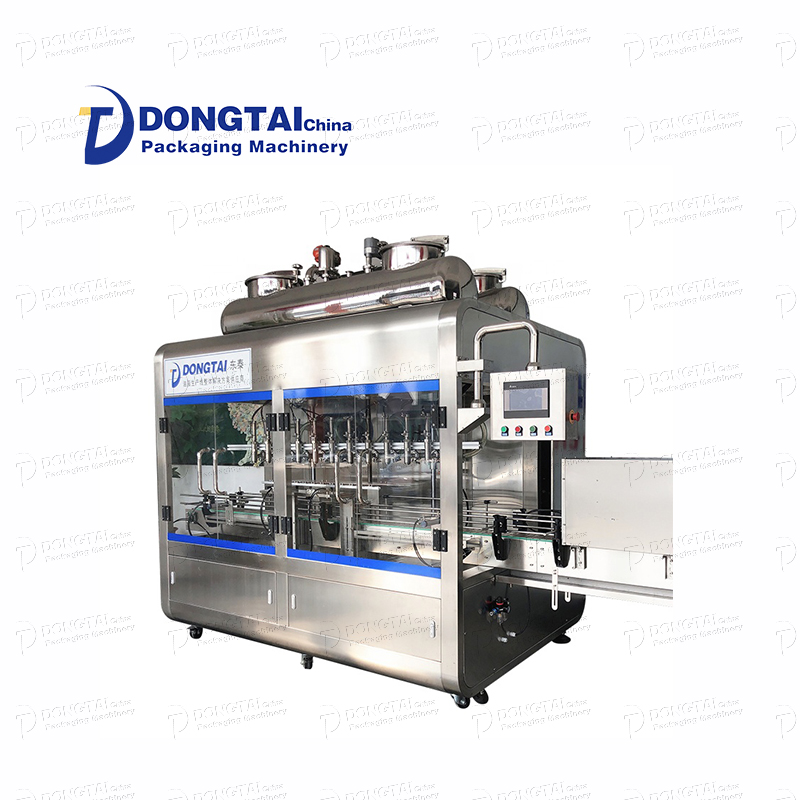 Product advantages of the new chili sauce filling machine:
1. The plunger metering pump is used for filling, which is suitable for various high-viscosity liquids with high precision; the structure of the pump adopts a quick-connect disassembly mechanism, which is convenient for cleaning and disinfection.
2. The piston ring of the plunger metering pump is made of tetrafluoroethylene.
3. PLC control system, frequency conversion speed regulation, high degree of automation.
4. No filling without bottle, automatic counting function.
5. It is convenient to adjust the filling volume, and the filling volume of all metering pumps can be adjusted at one time, and it can also be adjusted slightly for each metering pump; the operation is simple and the adjustment is fast.
6. The filling head is made of polytetrafluoroethylene, corrosion-resistant, abrasion-resistant, and high-temperature resistant. It can be used for filling high-temperature materials below 95℃. It is equipped with an anti-drip device, and a receiving trough is installed below.
7. The filling cylinder adopts a rotary valve piston pump to effectively prevent wire drawing and dripping. The material cylinder adopts a double-layer insulation hopper. The filling temperature can be controlled at 40-45°
8. The linear bottle feeding and positioning method is suitable for filling a variety of bottle shapes, and it is easy to adjust when changing the bottle shape and has strong compatibility;
9. The whole machine is designed according to GMP requirements.
10. Microcomputer text display and touch manual interface operation. Filling with bottle. Stop filling without bottle. And with counting function.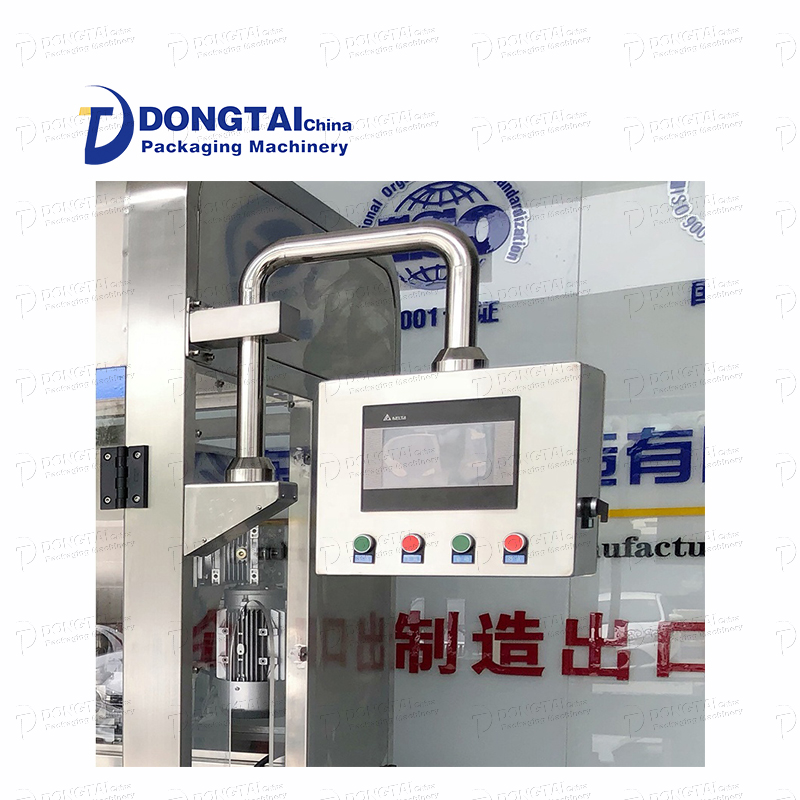 PRODUCT FEATURES

The automatic peanut sauce filling machine adopts linear filling, which is suitable for filling various sticky granular sauces
The bottle sauce filling machine has simple structure, sensitive and reliable action
The sauce nottle filling machine is programmed by plc (programmable controller) to intelligently control the entire production line, adjust the filling speed, convenient filling volume, intuitive and convenient parameters, and simple and easy to operate color screen.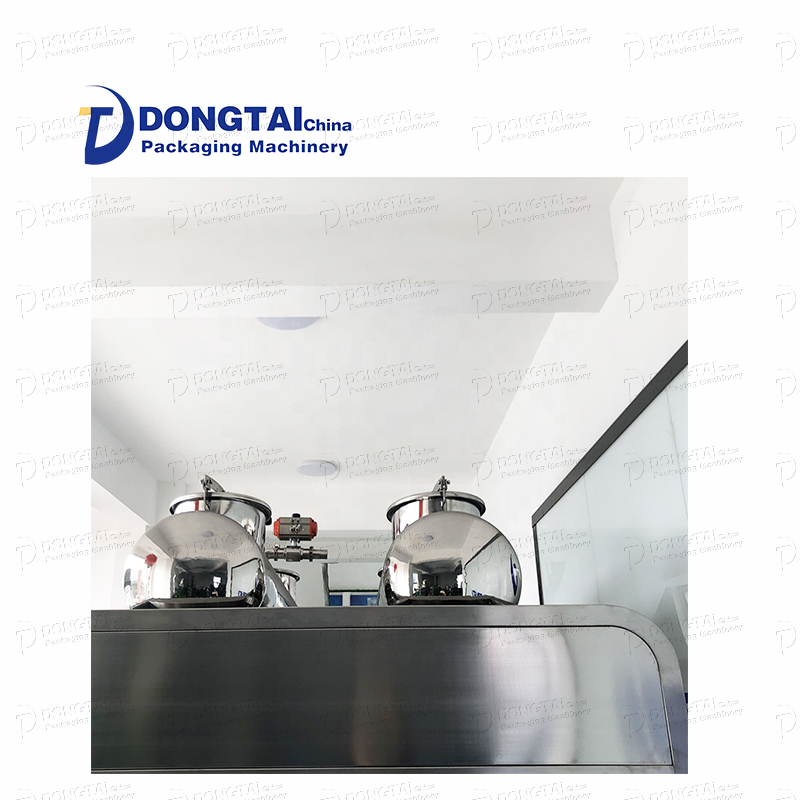 MAIN PARAMETER

| | |
| --- | --- |
| Filling and loading quantity | 5 ~ 100ml (optional) |
| production capacity | 30~40bottle/min |
| Accuracy | ≥99% |
| Cover yield | 240 + / - 10Ncm (can be set between 100-600 N*cm) |
| main motor power | 1.1KW 220V |
sauce filling machine---Suitable for material display: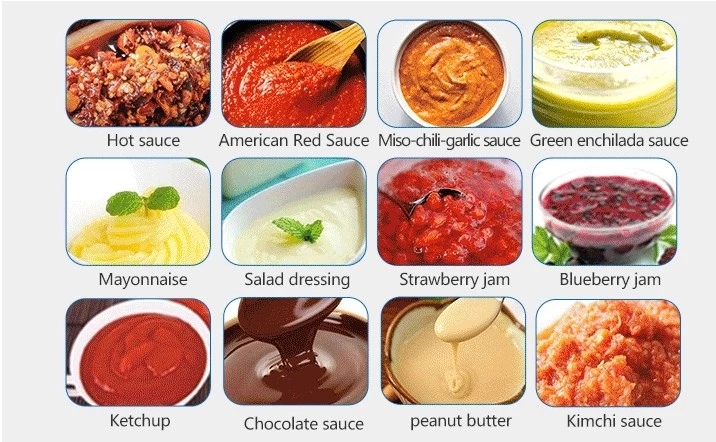 Branding:
Shandong Dongtai Machinery Manufacturing Co., Ltd. produces all kinds of sauce filling equipment, can design and customize automatic chili sauce filling machine for customers, the first brand of granular sauce, Shandong professional chili sauce filling production line manufacturer, and also provide various Filling equipment, liquid and oil filling production line, paste thick sauce filling machine, semi-automatic filling machine, automatic filling line, everything is available, and a variety of filling equipment is available.
FAQ:
1: When was Dongtai Machinery established?
Answer: It started in 2008 and now has about 12 years of experience in the packagingindustry.
2: What is your delivery time?
Answer: It usually takes 30 days to produce, but if there are spare parts in an
emergency, it can be completed within 15 days.
3: What is the warranty? Answer: The warranty period is 1 year and does not include
easily damaged spare parts, such as heaters, belts, etc.
4: How do you recommend a suitable filling machine to me? Answer: You
need to provide us with detailed filling requirements, including packaging products, bottle size, packaging weight, bottle type,etc.
5: Can we arrange technicians for overseas debugging? Answer: Yes, we can provide services as needed, but the fees you need
to pay include visa fees, round-trip air tickets, accommodation and labor fees. We also accept you to arrange technicians to study in our factory before shipment.